Powargrid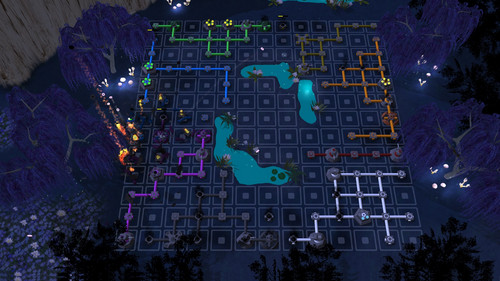 We've just made a new version of Powargrid available, with a couple of features that were requested by players. Let's dive straight into what's new.

Eight person multiplayer

The AI in Powargrid has been called intelligent and even devilish. But since humans are much better than the AI at taunting, throwing insults, gloating and being sore losers, the real fun for many players is to play against - and try to defeat - a human opponent.
To multiply this fun, we've added multiplayer matches with more than two players. Hence the multimultiplayer update - we couldn't find a real word to use :). You can now host multiplayer games for up to eight people. You can choose whether to fight in teams or go for free for all mayhem.
New skirmish map
We've also added a new map, Marsh to War, which can be used for both skirmish and (multi)multiplayer matches. The gameplay is quite different from the other maps and we hope you'll enjoy it. Marsh to War is playable with up to eight players.
Existing skirmish maps have also been upgraded to support more players: up to 3 players on the Isle of Trial, and 8 players in the Pit of Grit and All Must Fall.
For every possible number of players, we've hand picked the starting positions to make for as fair a fight as possible.
Powargrid demo
Along with the update, we're also releasing a demo version on Steam, with the first five missions of the campaign. While we (of course) hope to reach new players with the demo, we also had existing players in mind. With the demo, you can join (but not host) multiplayer games. So if you own the full version of Powargrid, you can always play a (multi)multiplayer game with your friends, even if they only have the demo.
Other than that, we've made minor improvements, from bug fixes to some visual changes, including a new main menu scene. We hope you'll enjoy this update and we'd love to hear what you think of it!
Cheers,
Michiel and Willem
Files
powargrid-linux-1.3.2.zip
190 MB
Jun 25, 2017
powargrid-osx-1.3.2.zip
188 MB
Jun 25, 2017
powargrid-windows-1.3.2.zip
182 MB
Jun 25, 2017